Try the PDA-Version of this dictionary!
This is
not
an offline application for your PDA, you can only use it with Pocket Internet Explorer or another mobile browser!
Especially laid out for PDAs (Pocket PCs, Palm Pilots) with small screens. Tested on Compaq Ipaq and Sony Ericsson P800, as well as on Nokia 9300i and 9500 Communicator.
It uses the same database as www.dict.cc, so you always have the most up-to-date translations with you. It works exactly like its bigger brother - just enter a word into the form and get the result list instantly.
You don't need to store all the data on your mobile device, but, of course, you have to be online (GPRS, WLAN, UMTS).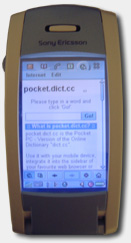 By the way:
pocket.dict.cc is also very useful if you have longer translation tasks. Just open pocket.dict.cc in a new window, resize it to a narrow column and place it left or right of your word processing window.
»
pocket.dict.cc in a small window
»
pocket.dict.cc
English-German online dictionary developed to help you share your knowledge with others.
More information
Contains translations by TU Chemnitz and Mr Honey's Business Dictionary (German-English). Thank you!
Links to this dictionary or to single translations are very welcome!
Questions and Answers